I've been using Caraway cookware for the past six weeks, and this is my honest, glowing, review! I'm sharing everything I've learned about cooking and baking with Caraway. Plus, I have answers to your top questions about cleaning, storage, oil-free cooking for WFPB diets, and more.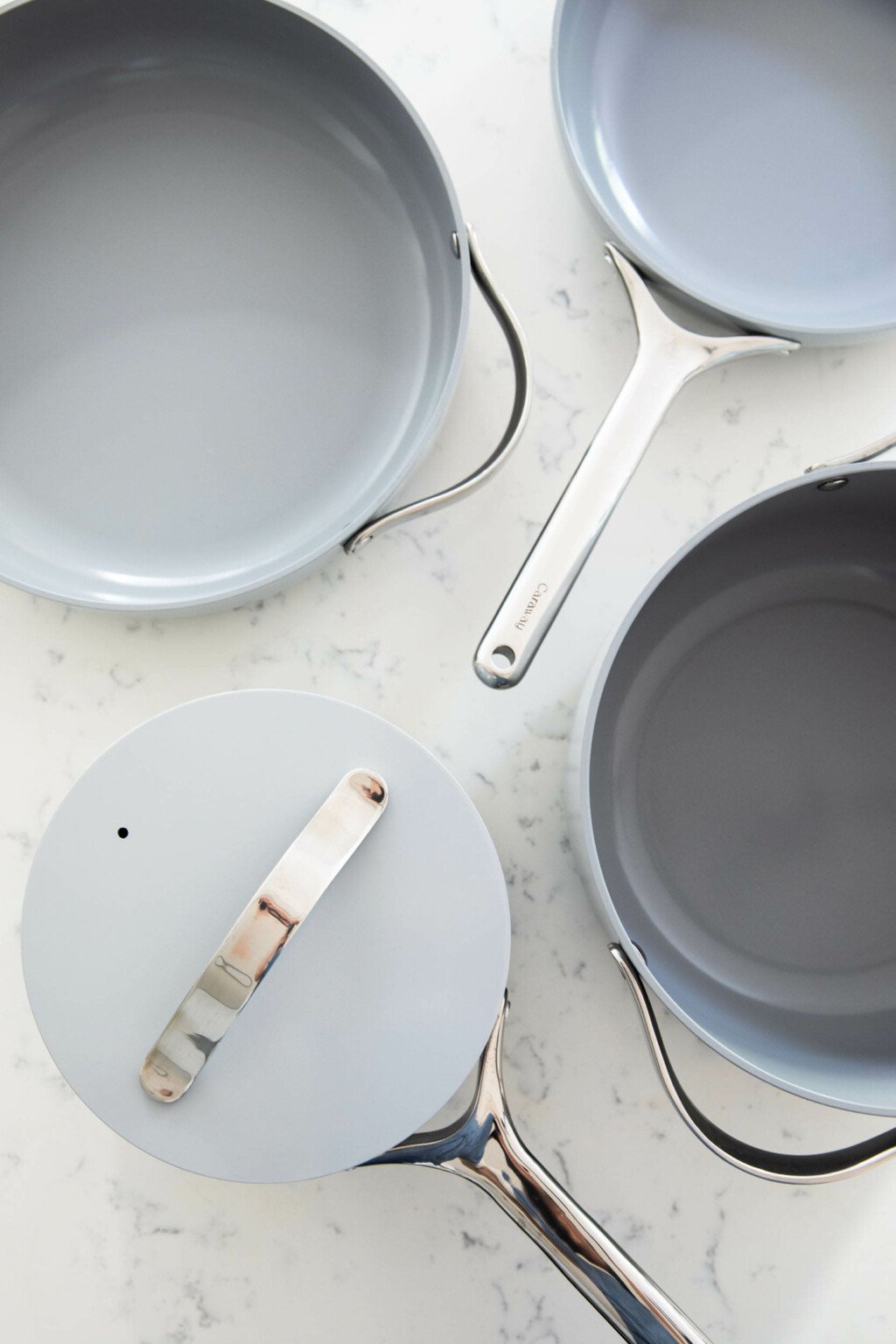 I'm so excited about the review that I'm sharing today!
The very first new item to arrive at my studio—before furniture, storage, or even groceries—were two boxes from Caraway home.
One contained the Caraway non-toxic ceramic nonstick cookware set. The other contained the Caraway baking set.
I've had my eye on Caraway for a long time now. Within the last few years, I've started to use nonstick cookware almost exclusively. I love the easy cleanup and the fact that I don't have to stir constantly to prevent things from sticking.
I also love the fact that I don't have to use a ton of oil with nonstick cookware. I'm not an oil-free eater myself, but I don't tend to use a lot of it when I sauté.
Really great, nonstick sauté pans make cooking with moderate or even no oil easy. I've been keeping my WFPB readers in mind as I wrote this review.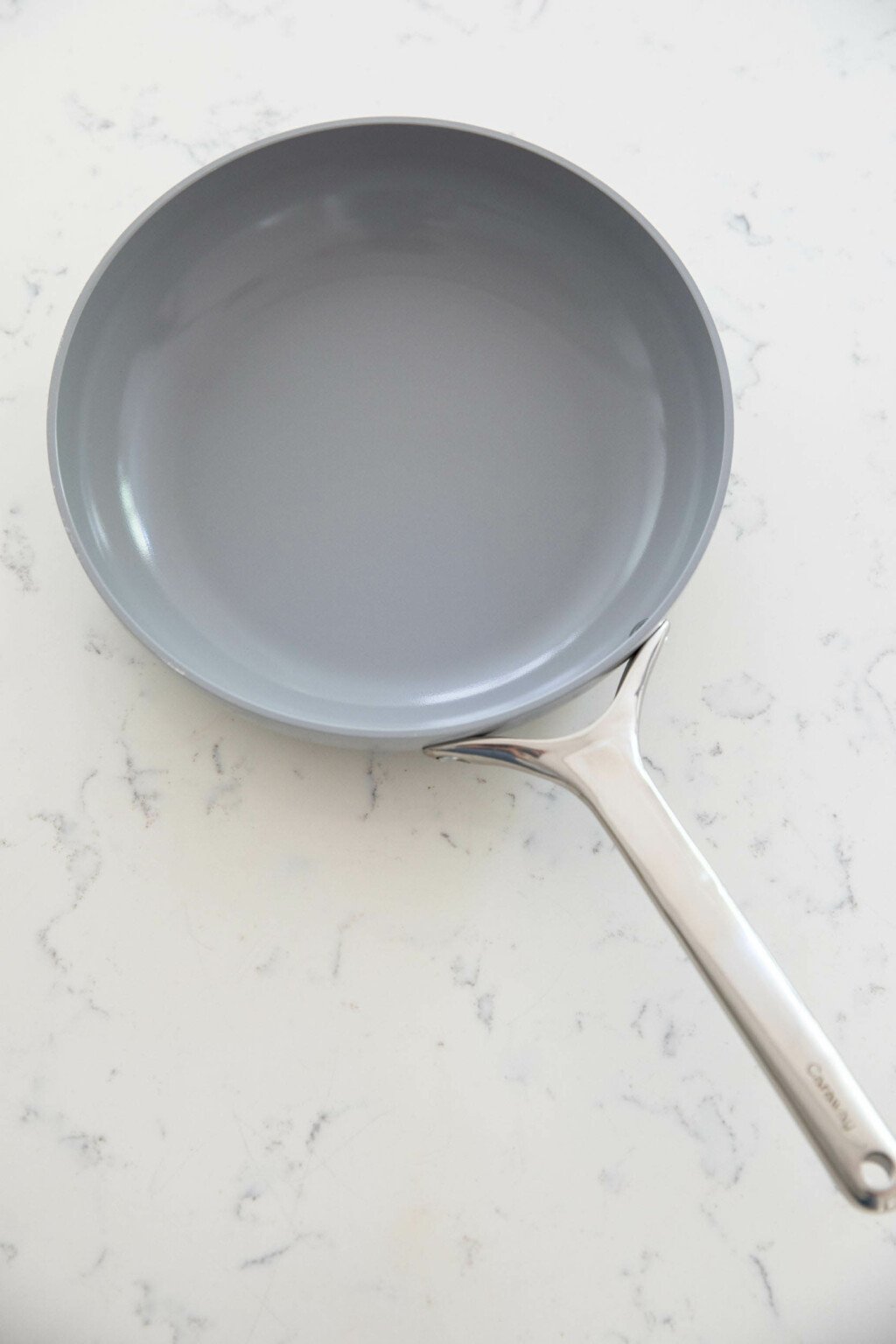 What is Caraway cookware?
Caraway is a line of non-toxic, ceramic-coated, aluminum cookware.
The signature Caraway cookware set includes the following:
10.5-inch fry pan
3-quart sauce pan
4.5-quart sauté pan
6.5-quart Dutch oven
The sauce pan, sauté pan, and Dutch oven all come with fitted lids that allow a small amount of steam to escape during cooking.
The pots and pans can be purchased individually or as part of that set.
The set, which is what I have, arrives with storage solutions for both the cookware and the lids. This has been one of the features I most appreciate as an urban, small-space dweller.
There's also a Caraway bakeware set, which is a newer offering from the company. It can be ordered as a half set or a complete set.
The bakeware includes:
18×13″ baking sheet
10×15″ baking sheet
12 cup muffin pan
9×13″ rectangular baking pan
18×13″ cooling rack
9″ square pan
1lb loaf pan
2 9″ circular pans
I have the 5-piece, half bakeware set, which includes both sized baking sheets, the muffin pan, and the rectangular baking pan. I like the bakeware so much that I ended up purchasing the loaf pan separately.
Both Caraway cookware and Caraway bakeware come with heat pads. You can rest your pots, pans, and baking sheets on these if you've been using your ceramic nonstick cookware in the oven.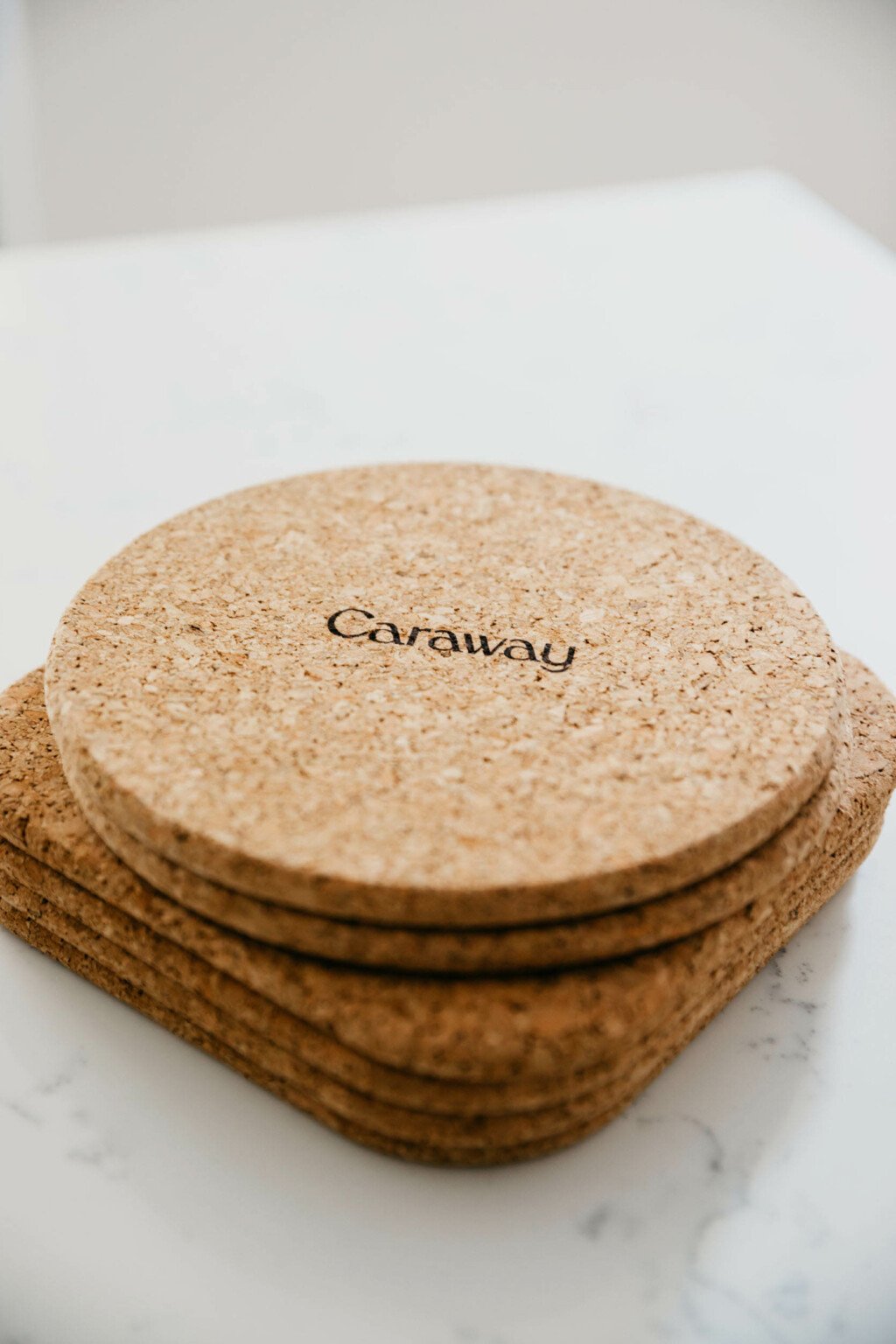 In addition, Caraway now makes a tea kettle, pot holders, and dish towels. I haven't tried any of those yet (though the dish towels are really cute).
A non-toxic, nonstick option
It's been my experience that folks have a lot of questions about the safety of nonstick cookware.
There's concern, especially in the case of older nonstick cookware, about harmful chemicals leaching into food at high temperatures or if the cookware becomes scratched.
Caraway cookware is both safe and non-toxic—and the brand offers a lot of information around this feature.
Caraway pans, pots, and bakeware are free of PTFE (polytetrafluoroethylenes, such as Teflon®), lead, and cadmium.
Caraway products also release less CO2 into the earth's atmosphere during manufacturing than other leading nonstick pans, and they're packaged sustainably.
Why Caraway feels like a fit for me
When I moved into this space, I knew that it was time for new cookware. I'd been using a hodgepodge of pots and pans that I'd picked up at various points between college and now.
The nonstick frying pan that I was using was both old and cheap. I had another ceramic non-stick pot that I liked, along with some stainless steel cookware that I kept around, but rarely used because I like cooking with nonstick more.
The plan was to give my mom the nonstick pot (she's been wanting a new one) and research new cookware for my studio.
Because I don't have much storage space, I hoped to find a single set that would take care of all, or at least most, of my cooking needs.
I'd heard great things about Caraway and loved the pans' design and aesthetic. I also knew that the sets came with storage solutions, which felt important.
I connected with Caraway as I was packing up in my old space. We started to discuss the possibility of my becoming a Caraway affiliate.
Of course, I wanted to have at least a month to test the cookware at home, so that I could write an honest review and decide whether it would feel authentic to share about the cookware and bakeware on my blog.
It does. I'm loving my new Caraway sets, and I'd gladly invest in them even if I hadn't been lucky enough to receive the cookware in exchange for sharing my thoughts with you.
Here are some of the features that I've most benefited from in the weeks that I've been using the Caraway set.
Storage
That's a scene from one of my main kitchen storage cabinet!
As you can see, the entire Caraway cookware set fits in neatly. This is thanks to Caraway's Magnetic Pan Racks. They can hold together or be used separately.
The bakeware has its own storage rack, which is visible in the top left.
These racks are magnetic and can be stacked however you'd like to stack them. I keep my cookware toward the back of my cabinet.
Things are tidier in the photo than they are in real life. On any given day, my colander, salad spinner (which is also a grater and spiralizer) and sieves live right in front of the cookware.
But as you can see, I'm able to store all of my cookware—the four pieces that allow me to make everything—tidily and in one place. That's new for me, and it suits my new surroundings.
Caraway also arrives with a lid storage option for cabinet doors. Mine fits perfectly on the door of the same cabinet that's home to my cookware.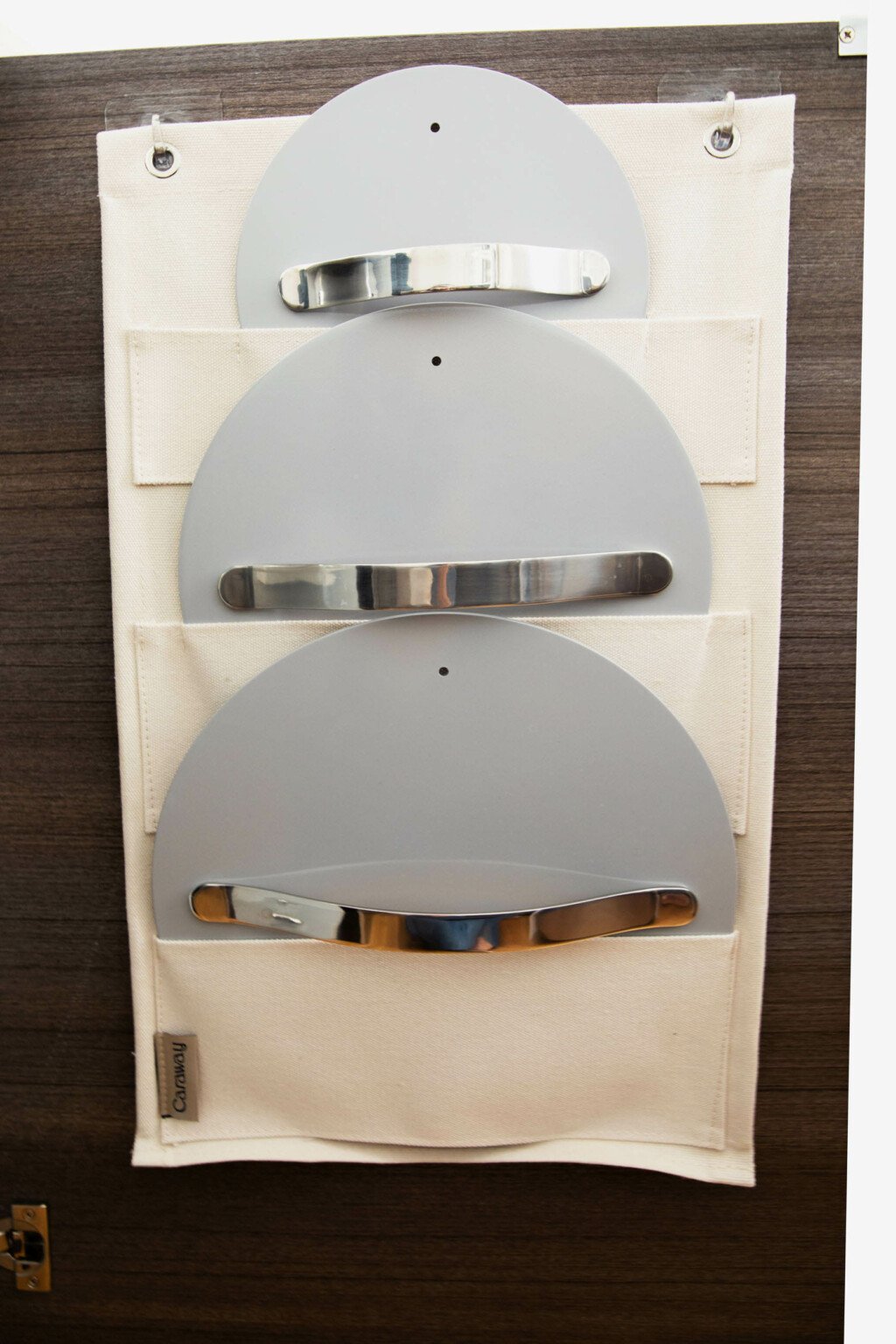 Nonstick surface
I've used many nonstick pans and pots that were just a tiny bit sticky.
Most of the time, these did the trick. But occasionally there would be a moment when tofu scramble didn't scramble easily, or pancakes were more difficult to flip than I wanted them to be.
The Caraway pan has proven to be the most truly nonstick cookware I've used. Sautéing just about anything is a breeze.
When I hear people talk about the true test of nonstick cookware, they often mention eggs.
Using Caraway at home has actually encouraged me to create a homemade vegan egg equivalent that I'm really excited about.
I'll share the recipe very soon, but in the meantime, you can see how perfect Caraway is for making omelets (and scrambles).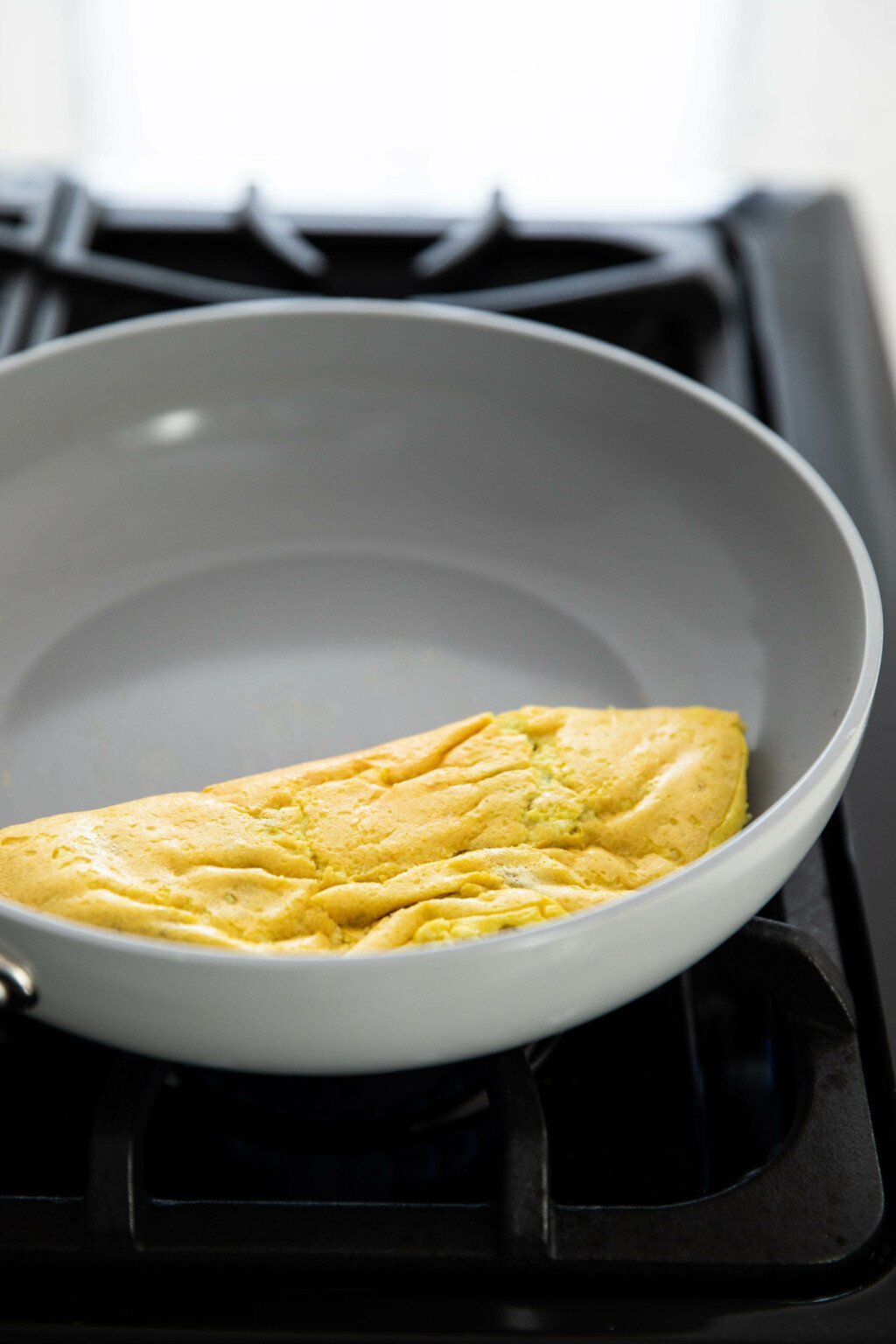 The Caraway cooking set has also worked beautifully for all of my other, customary cooking.
This includes cooking whole grains, soups, stir fries, grain and bean skillets, pasta, and more. So far, no sticking or staining at all.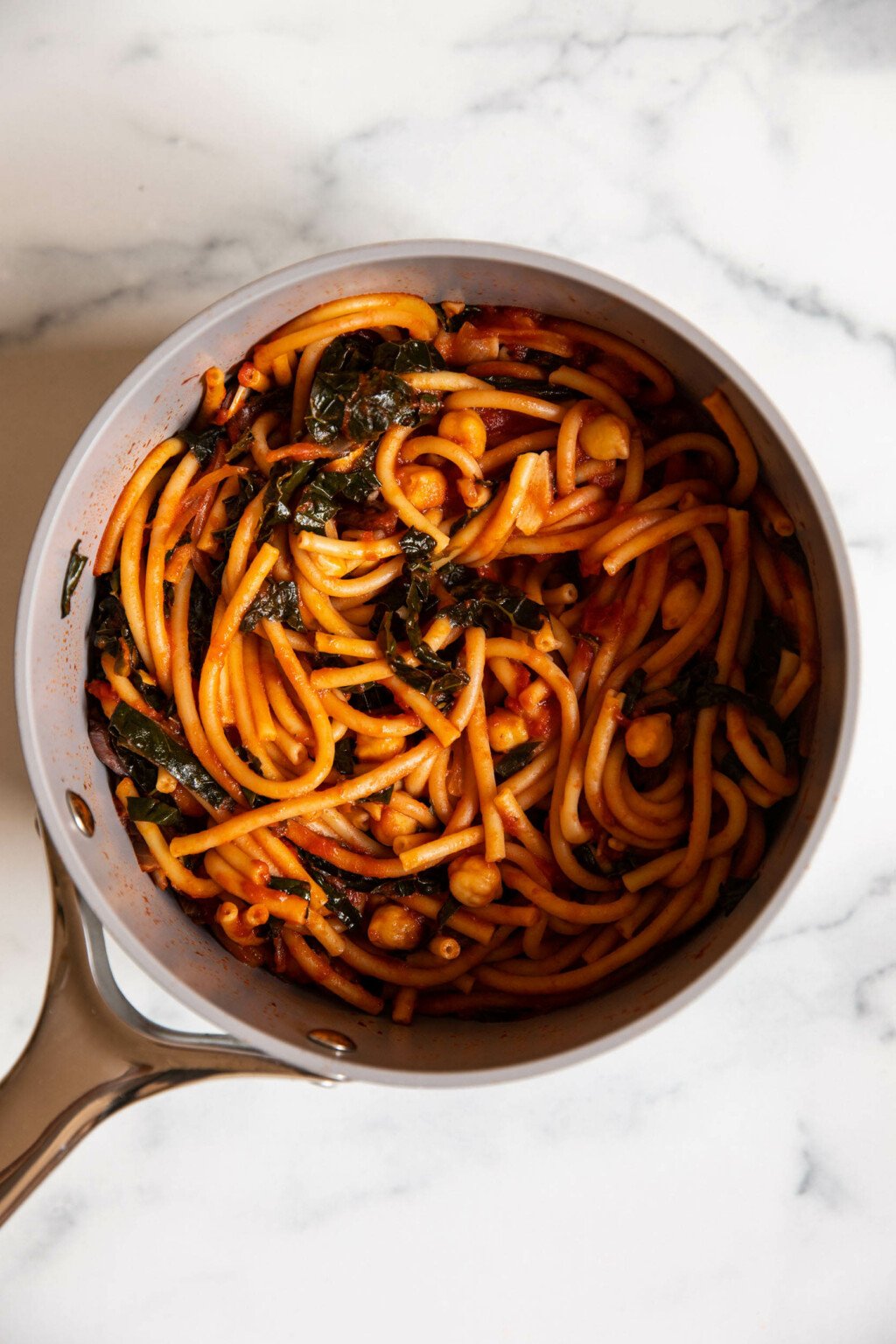 Caraway cookware cleaning
One of my favorite things about the Caraway cookware is how easy it is to clean.
The Caraway site will tell you everything that you need to know about the cleaning process. The takeaways, though, are simple.
First, don't transfer hot pans to cold running water—this will "shock" the pans. Second, use soapy, warm water and a non-abrasive sponge, scrubber or cloth.
So far, I have yet to need a non-abrasive scrubber. A regular, soft sponge with warm, soapy water has removed every bit of food from the cookware easily. They're the quickest-to-clean pots and pans I've had.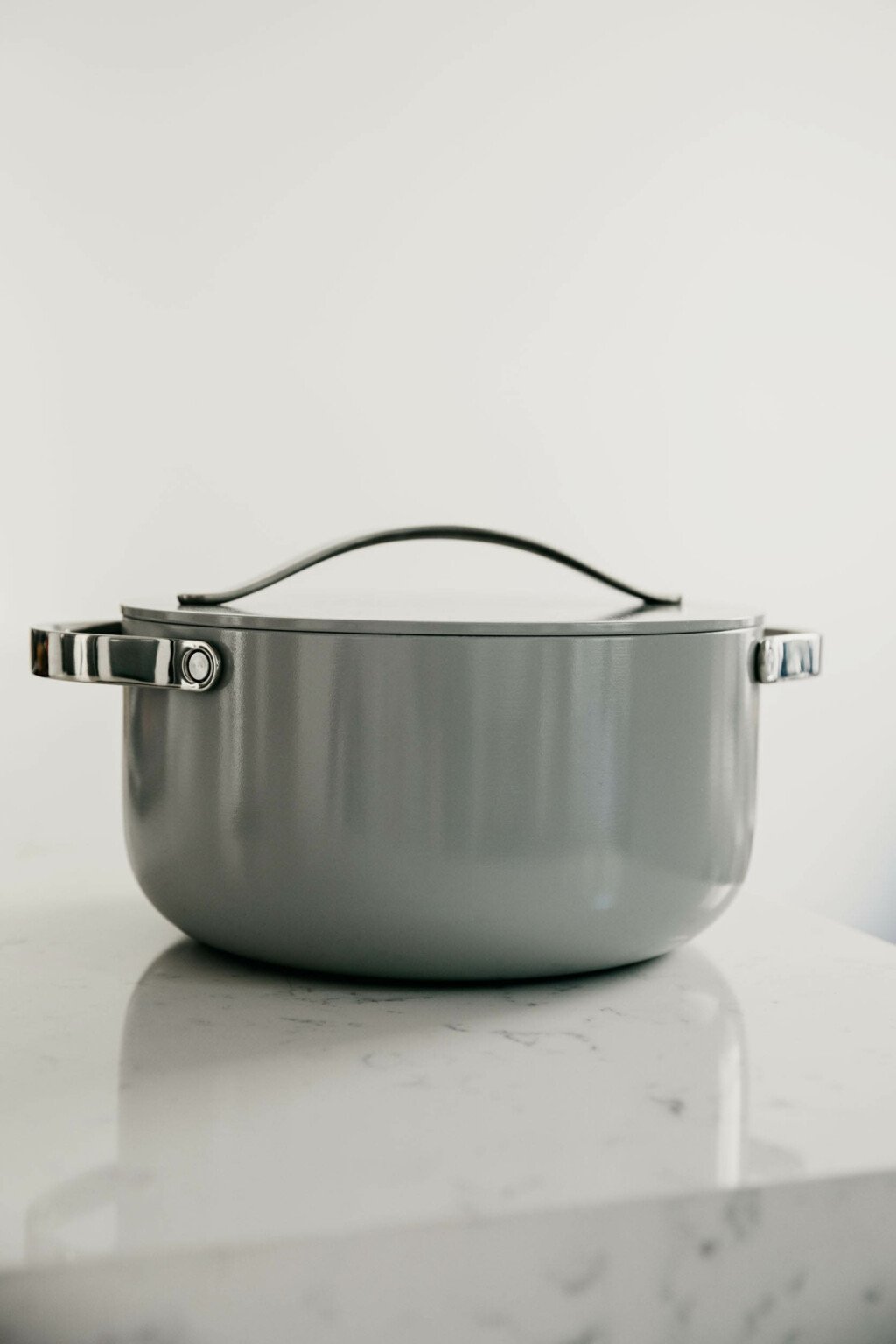 Design
Yes, Caraway cookware is functional, safe, easy-to-store, easy-to-clean, and truly nonstick.
But another reason that people, including me, love the brand is its design. The cookware comes currently in 8 lovely colors.
The gray is what worked for my kitchen, but I spent a lot of time gawking at the Perracotta (pink) and Sage (green) sets.
The cookware is also sleek and modern looking. It's nice for me to look at the complete set after years of so many mismatched pieces of cookware.
While I would never recommend that someone invest in Caraway because of aesthetics, they're part of the brand's appeal. The visual beauty of the set isn't meaningless—especially since the cookware also delivers on performance.
So, is Caraway cookware worth it?
When I asked readers what they wanted to know about Caraway, the most common response I received was, "is it [the cookware set] worth the money?"
My answer is an unequivocal yes. For me, the combination of function, form, storage and cleanup makes the Caraway cookware set 100% worthwhile.
A Caraway cookware set is priced at $545. For context, this is comparable to, or less than, many stainless steel and nonstick sets from competitors.
You can get $150 off the whole set and free shipping here. The cost of the 7-piece set will be $395.
Caraway offers a 30-day trial period. If you're not totally happy with your cookware or bakeware, the free return and refund policy makes it simple to get your money back.
The brand also offers a limited one-year warranty. It covers major damage to the body, handles, lids or anything else that functionally impairs the cookware.
Back to the question—does the Caraway set live up to the hype?
I think it does. If I weren't collaborating with Caraway as an affiliate and had purchased the set myself, I'd absolutely keep it based on my experience in the last month.
Can I imagine that there are some consumers who wouldn't love Caraway? Sure. Folks who do a lot of high heat cooking, such as heavy duty pan-searing, may find that the suggested low to medium temperature range is limited.
If you already have a lot of cookware that you love, then it may not make sense to invest in the Caraway cookware set. A single cookware piece would be a better option.
Given my cooking needs, I'm super happy to have the whole set.
My most frequently asked Caraway cookware questions
When I received my cookware set, I popped into my Instagram stories and asked my readers to share their burning questions about Caraway with me.
Below, I'm offering some answers to the questions that came up.
Is Caraway cookware dishwasher safe?
No, dishwashers aren't recommended for cleaning the cookware. This page has extensive information on how best to clean and care for your cookware or bakeware.
How does Caraway perform with different levels of heat?
According to the brand, it's best to use Caraway over low or medium heat. Ceramic holds heat more efficiently than traditional pans, so a high flame isn't necessary.
I've kept my flame to medium at most. I also tend to peek at the burner when I turn it on to be sure that the flame only extends over the silver, steel base on the bottom of the pans and pots.
For what it's worth, I've done some stir fries and crispy tofu or tempeh in my Caraway pan, and so far, so good. It hasn't been a problem for me to do these over medium heat. I have yet to think of a high heat application that I'm missing out on.
Caraway cookware can be transferred to the oven, as well. If you do this, note that the cookware can be placed in oven temperatures up to 550°F, but never to the broiler.
How does the cookware hold up?
This is a question that I plan to come back and answer periodically in this post as I continue to use my cookware!
So far, I don't have any stains, warping, or signs of heat damage at all.
I will share that one reader and friend has the cream colored Caraway set. She loves it, but she reported to me that the cream colored surface has become discolored in a few places since she purchased it.
I don't know whether that's common for the cookware set's lightest color or not. The gray set is quite a light gray, so I have fingers crossed mine will continue to be as durable as it has been so far.
Caraway does note that the nonstick surface will ultimately wear down a bit. So far as I understand, this is true of all nonstick cookware; it was true of the last pan and pot that I owned.
But the brand also states that, if the pots and pans are cleaned as instructed, they'll last years. Again, I'll be happy to update this post through the years to let my readers know how my cookware set is holding up.
Another reader asked me whether the pans and pots are fragile.
The answer is that they don't feel fragile to me at all.
Caraway cookware seems incredibly well constructed. The pots and pans feel to me as sturdy or more sturdy than other nonstick cookware I've used. This includes my old Le Creuset ceramic nonstick pot, which seemed to have similar quality construction, but was a bit heavier than my Caraway pot.
Can you use Caraway on induction oven tops?
Many readers asked me this question, and the answer is yes! Caraway cookware is induction friendly.
I don't have induction burners, but according to the brand:
Yes, our cookware is induction compatible, as long as the burners on your cooktop support our base sizes. The bases of our pans' diameters are 5.5″ for the Sauce Pan, 6″ Fry Pan, 6.5″ Dutch Oven and 8″ for the Sauté Pan. Some induction cooktops may not support smaller base sizes.
Is the Caraway nonstick coating also safe/nontoxic?
Yes indeed.
Caraway's inorganic natural ingredients are FDA-approved and safe to use in contact with all foods.
The cookware is also free of PTFE, PFOA, PFAS, Lead, and Cadmium. There's no potential risk of these metals leaching into food over high temperatures or if the cookware is damaged.
What's the upkeep like?
Easy! You don't need to season the Caraway cookware set when it arrives. It's pre-seasoned and requires only a wash before use.
For cleaning, you need only use warm, soapy water and a non-abrasive sponge or cloth. In my experience so far, the nonstick surface is so efficient that cleaning is ridiculously quick.
How are the pans different from stainless steel?
I think they're much, much easier to clean. They're also truly nonstick.
Do the baking pans warp in the oven?
So far, mine haven't. In fairness, though, I haven't used them much yet. According to Caraway:
It is normal for bakeware to slightly "warp" and make a popping sound in the oven due to the heat. Don't worry—our bakeware's reinforced rim will ensure it will flatten once cooled.
I'll report back on this if it happens!
Can you use metal tools when stirring or sautéing?
It isn't a good idea, because metal can scratch Caraway's nonstick surface. You can use flippers, spatulas, or spoons that are silicone or wood.
I love the Material soft edge turner and usually use it when I'm cooking with my Caraway pans.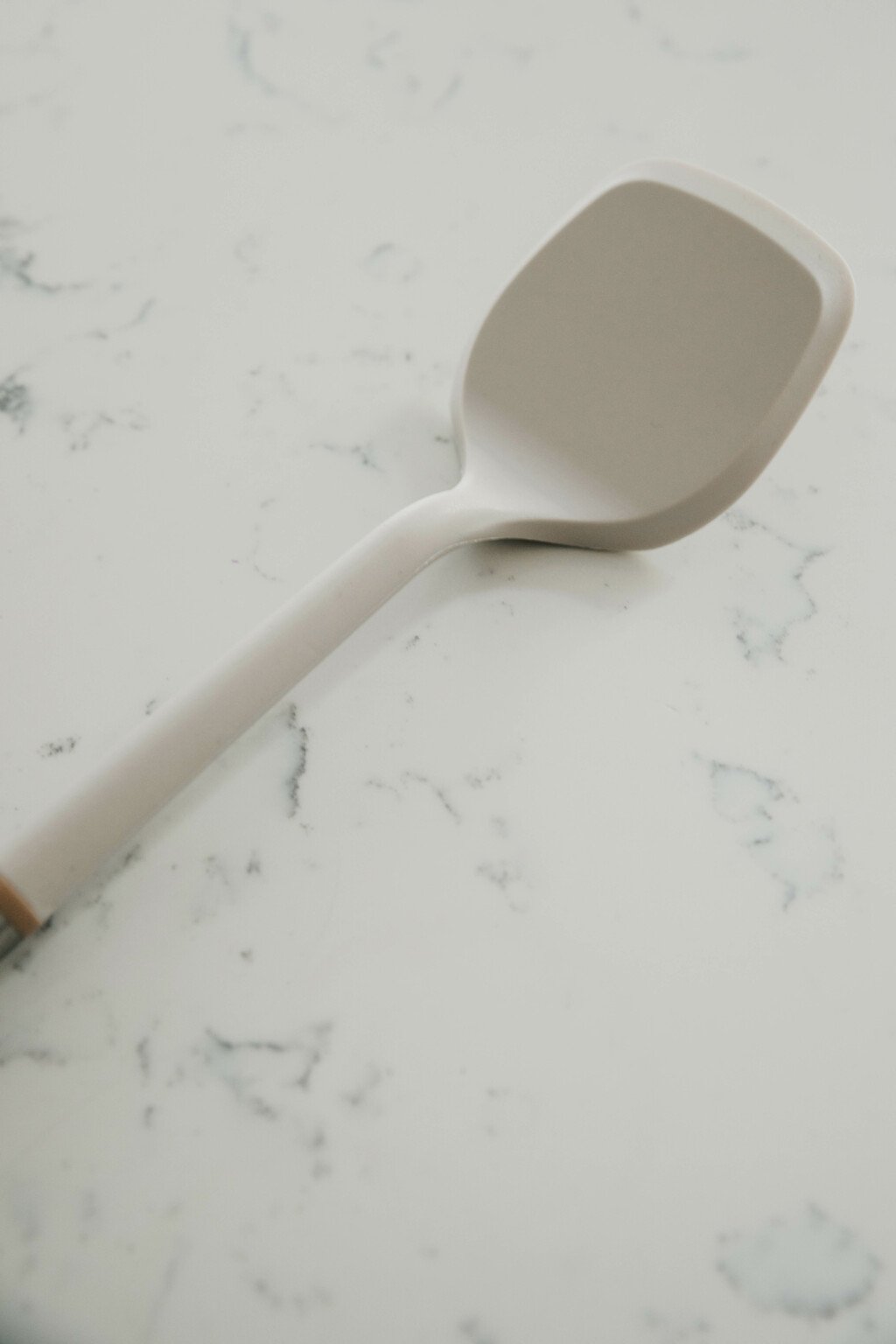 Caraway cookware for no oil cooking
The second most frequent question that I received about my cookware set was whether it's nonstick enough to work for no oil cooking.
This is no surprise to me, since I have a great many no oil/WFPB readers. While I eat and cook with oils, I'm always mindful that a part of my community doesn't, and I like to speak to their priorities.
So, I'm happy to tell my oil-free readers that Caraway cookware is perfect for whole foods, plant based diets—and for vegan cooking in general.
In anticipation of writing this post, I tested water and broth sautéing in my pans. Both options worked perfectly.
In fact, Caraway is designed to necessitate less oil (or butter) than most cookware. The brand itself notes that "a small amount will go a long way."
So far, I've mostly used small amounts of oil or vegan butter for my cooking in the Caraway set.
Most of the time, however, I need only a teaspoon or two. A tablespoon at most has been adequate for everything that I've tried so far.
Note that the brand recommends against oil spray for both the cookware and bakeware; instead, it recommends using a measured, small amount.
When I used the loaf pan to make my vegan zucchini bread, I added a teaspoon of avocado oil and used a paper towel to spread it around. I had no issues getting my bread out of the pan.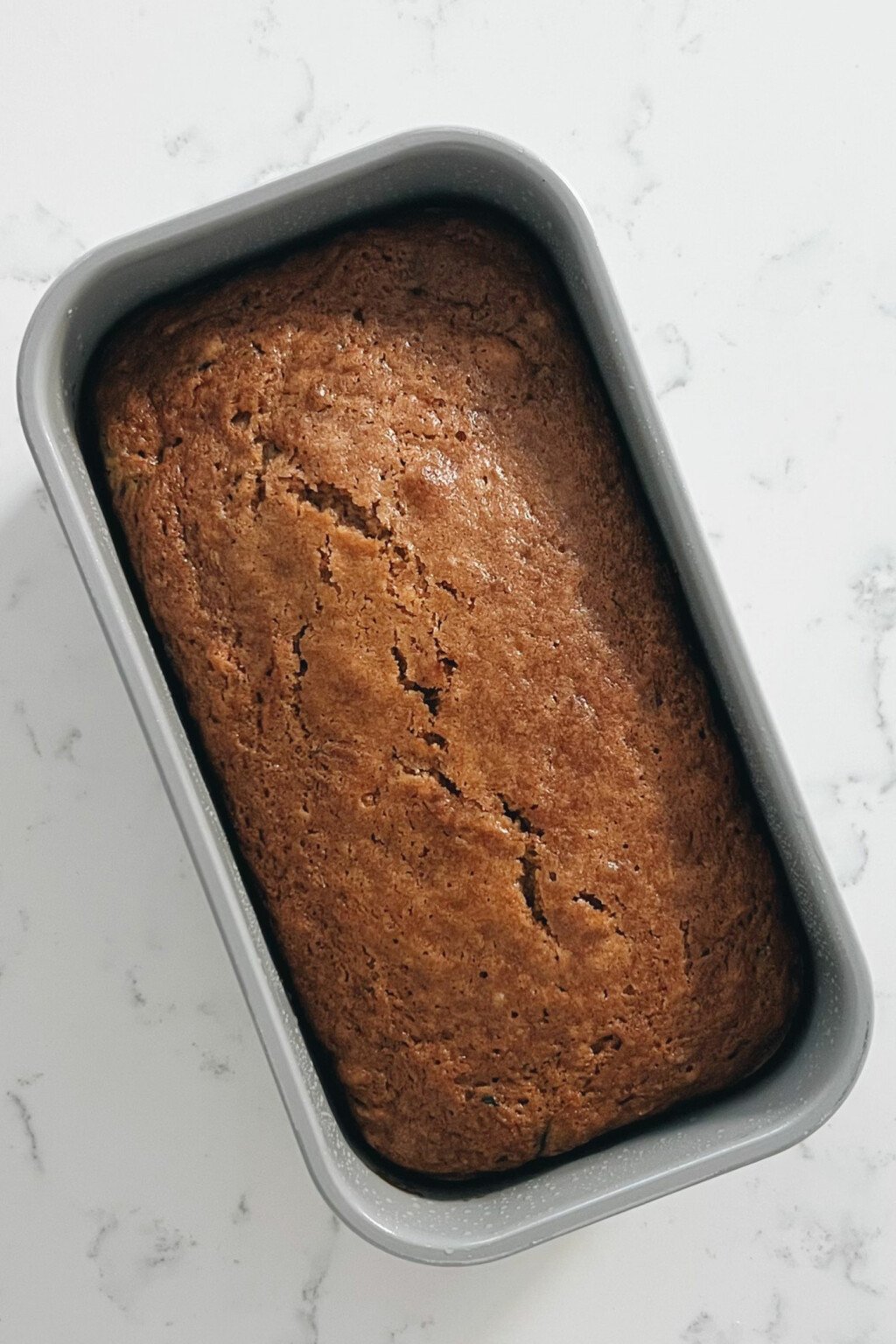 So yes, the Caraway set is a great choice for vegans who cook without oil.
And for vegans who cook with oil, too 🙂
The bottom line
In short, I'm really happy and fortunate to have a Caraway set in my new place.
And I enthusiastically recommend the set to any reader who likes nonstick cookware and is comfortable with the heat level that Caraway is designed for.
I know that Caraway is an investment. There are some deals offered by the brand that help to make the investment a little easier.
You can save $150 on a bakeware set when you click here.
You can also save $50 on the 5-piece, half bakeware set here.
And you can get free shipping with any purchase over $90—including single pieces of Caraway cookware—here.
If you have questions about Caraway, email me! Seriously. This isn't a sponsored post, but the above links are affiliate links. I'm delighted to share them, and I'm also happy to speak to respond to any questions that I'm able to answer.
I let go of many things when I moved this summer. Caraway is one new thing that I feel very happy to have welcomed into my life.
I can't wait to continue sharing the recipes I create with the cookware and bakeware sets. If you give Caraway a try, I hope that you'll be really happy, too.
xo