The vegan meal prep ideas in this post will ensure that you start your day with good nutrition—even when life gets busy! Whether you eat breakfast on-the-go or work from home, you'll find options that are nutritious, satisfying, and convenient.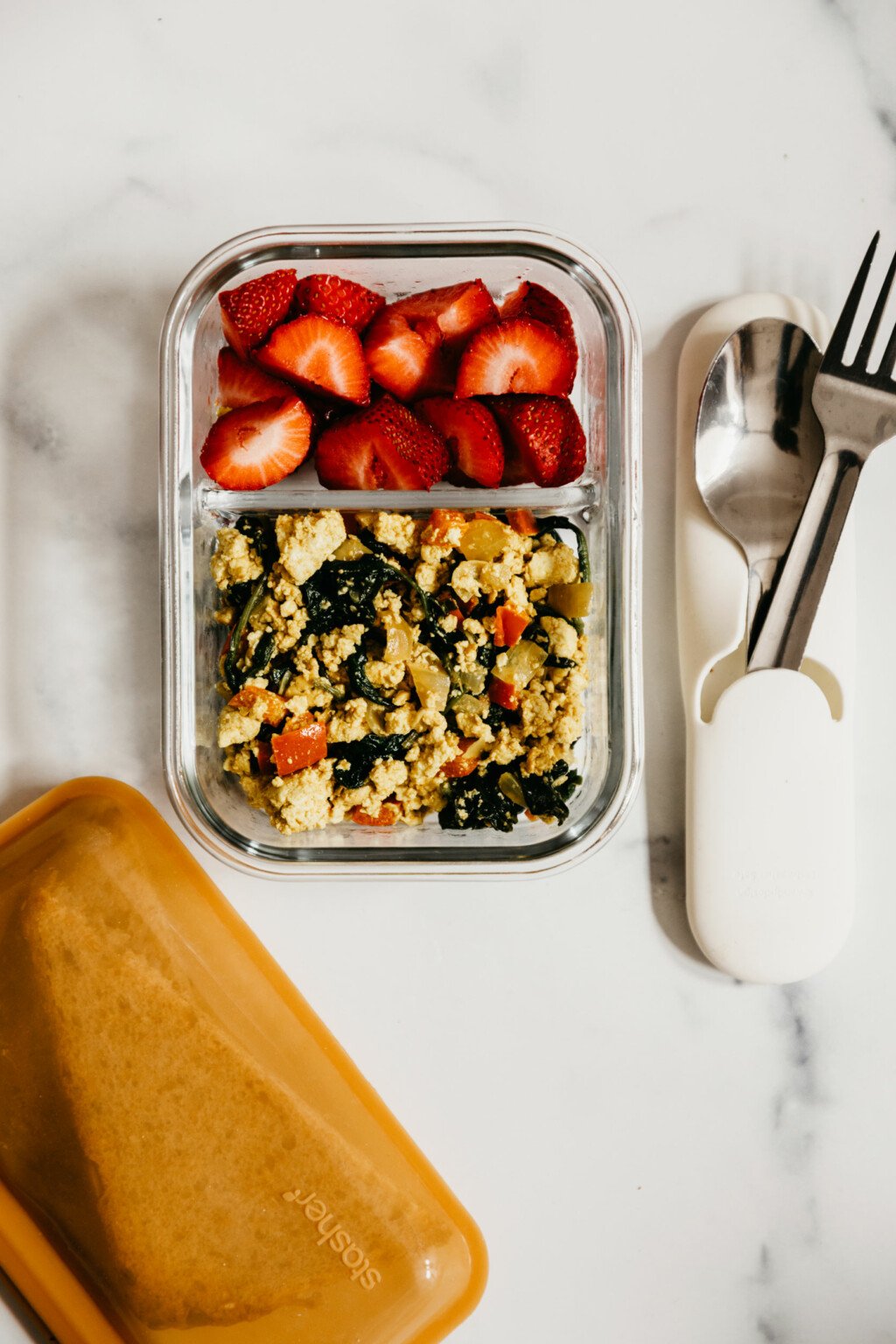 Meal prep is the reason that I eat home cooked meals consistently.
I love cooking enough to have devoted part of my professional life to it. But I'm no longer at a place where cooking feels pleasurable at the end of a long day.
On busy weeknights, cooking feels like a burden. On top of this, I'm no good at making food decisions when I'm hungry and tired. This is often the case when I wrap up a full day with my nutrition clients.
Under those conditions, I'm likely to have a hard time deciding what I want to eat. I'll get easily frustrated if a recipe doesn't go smoothly.
Of course, there are frozen foods, which make life easy if I'm not in the mood to cook. But I love hearty, varied, homemade meals. Thanks to my meal prep routine, I can enjoy them all week long—without cooking all week long!
I meal prep most of my meals. But in many ways, meal prep breakfasts are the most important part of the nutritional puzzle.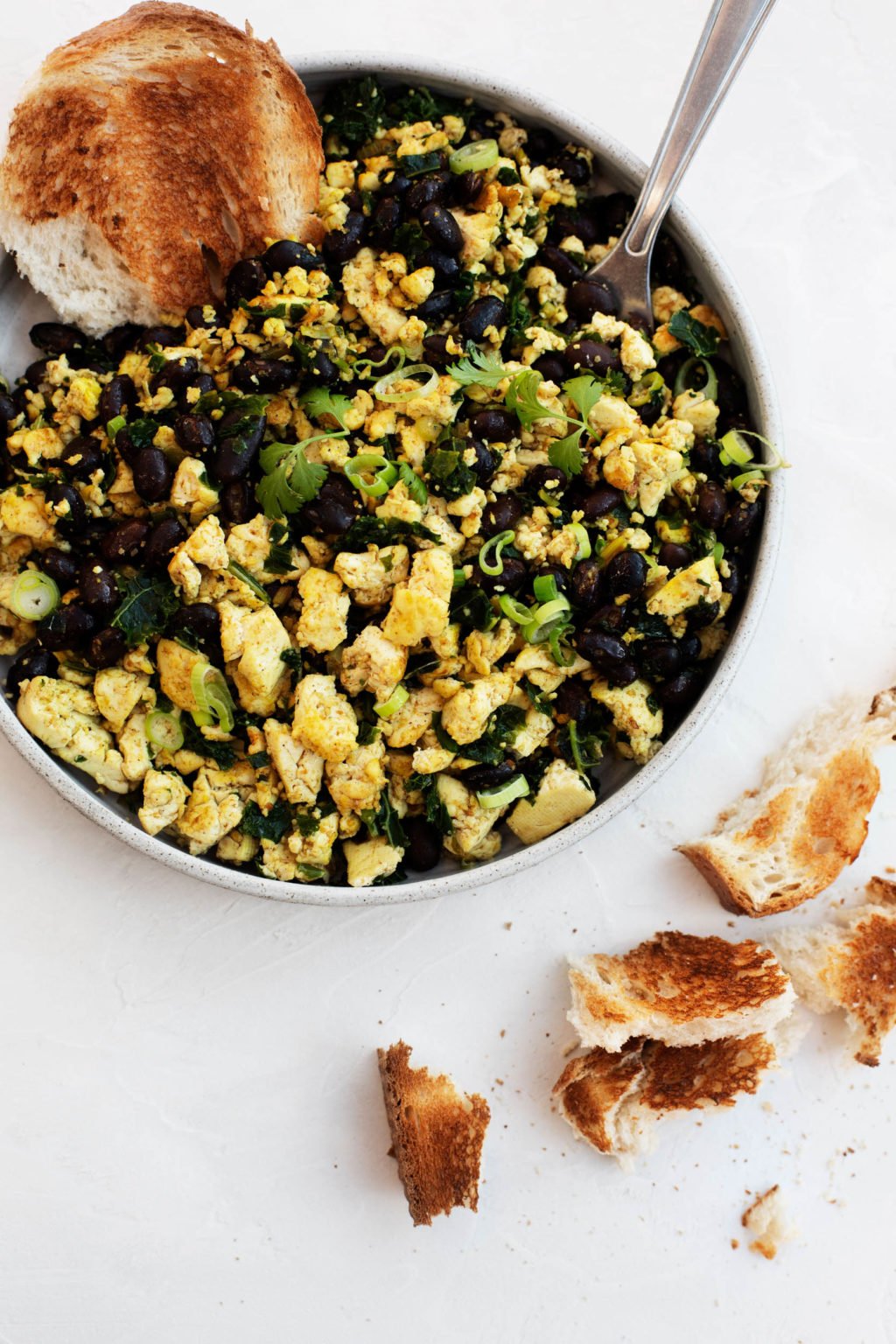 This post is dedicated to my favorite vegan meal prep breakfast ideas. They fuel my mornings through busy times and restful times alike.
Here's what I've included in the post:
Vegan breakfast nutrition
I know from working with clients that many people aren't breakfast people. They're not hungry in the morning or they're too rushed with early day obligations to prioritize eating.
I understand that feeling. When I have early day meetings or client sessions, I sometimes struggle to eat something nutritious as the day begins.
Yet, for all of the practical challenges that surround breakfast, there's evidence in support of a nutrient-dense morning meal.
Kids and teens to eat breakfast, rather than skipping it, seem to be more alert and perform more strongly in school.
Breakfast consumption has been linked in observational studies to improved cardiac health [1, 2], blood pressure control [3], and insulin sensitivity/prevention of Type 2 Diabetes [4, 5].
It's not entirely clear from these studies whether it's breakfast itself that makes the difference, or another pattern or habit that people who eat breakfast also tend to adhere to.
To me, it makes intuitive sense that a morning meal would contribute to a healthy metabolic rate and more balanced eating through the day. Most folks tend to have a harder time with balanced eating when they go long periods of time without food.
More importantly, a skipped breakfast is a missed opportunity for good nutrition!
Many breakfast foods are rich in fiber (think: oats, whole grain cereals, whole grain bread), protein (think: tofu scramble, peanut butter, vegan breakfast meats), and phytonutrients (think: fruits and vegetables).
Prioritizing protein
My clients tend to be very nutrition-savvy. Yet many of them report inadequate protein intake when we go over their diets together for the first time.
I'm a big believer in a protein-rich breakfast for energy, blood sugar control, and satiety. I routinely encourage clients to get a 20 gram bolus of protein at breakfast when possible, or a minimum of 10-15 grams when it's not.
Eating a protein-packed breakfast will help you to meet overall protein needs for the day. Adequate protein and energy intake in is associated with strong immunity [6], maintenance of muscle mass over time [7], wound healing and recovery after injuries or surgeries [8], and enhanced satiety after meals [9, 10].
In short, protein is important! In pulling together the meal prep breakfast ideas below, I've tried to prioritize this critical nutrient.
Meal prep breakfast essentials
So, what else do I prioritize when I'm coming up with meal prep breakfast ideas? Here's a short list.
Nutrition
I eat what I crave in the morning, but I also try to prioritize nutrition. The nutrients that I think about are:
All of my most common go-to breakfasts are power plates, which is to say that they feature protein, fat, and carbs.
I always include some fruit or vegetable for phytonutrient density. Phytonutrients are responsible for the beautiful colors that fruits and vegetables display. They're individually and collectively associated with lower rates of chronic disease.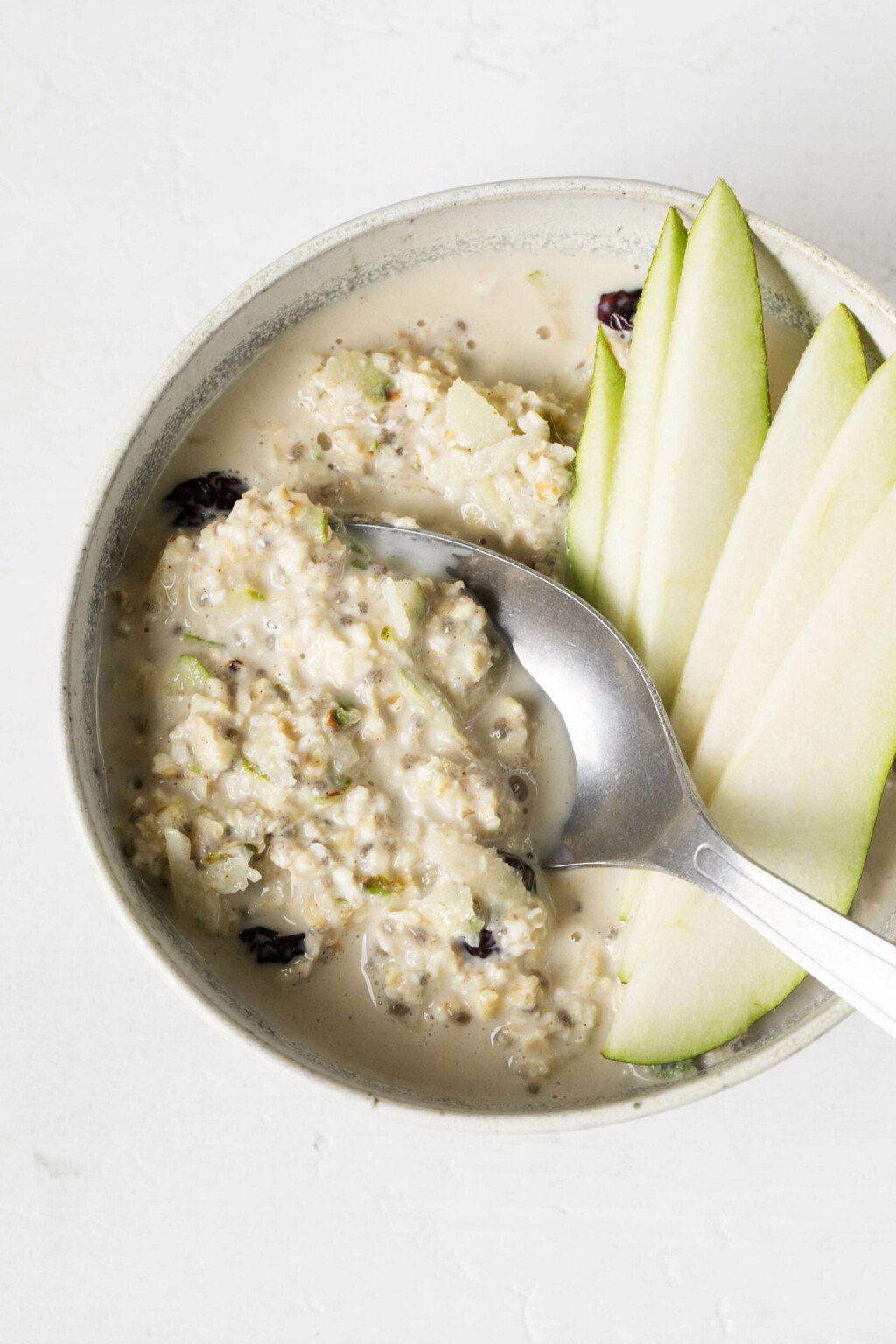 As for calcium—a big nutrient of concern for me, given my anorexia history—I prioritize fortified plant milks. I also try to sneak leafy greens and legumes into savory breakfast when I can.
Convenience
Much as I love a hearty breakfast, I don't love having to fuss too much over food on a busy weekday. My favorite meal prep breakfast ideas include options that are simple to prepare.
They often feature my favorite store-bought vegan products, like cereal or yogurt. These foods make it easier for me to nourish myself well on a regular basis.
Variety
I love both sweet and savory breakfast foods. So, I try to get a variety of both as I plan my breakfasts for the week.
This doesn't mean that I don't have defaults. Toast and bagels (savory or sweet) are the two most common among those, followed by breakfast tacos and tofu scramble.
I also eat a lot of oatmeal and cereal.
Yet I try, even when I'm busy and on autopilot, to not eat the exact same breakfast each day. More variety means a wider array of nutrients.
When I meal prep for the week, I plan on making (or having ingredients for) at least two breakfast options.
Portability
I find that my most successful vegan meal prep ideas are portable. While I often eat breakfast at home, it's good to know that I could grab these and take them to a meeting if I needed to.
Sometimes, I bring them to a coffee shop, so that I can work with others around me for a change.
Even if I do WFH every morning for a week, it helps me to pack my breakfasts up as if I were going to take them somewhere. They end up prepared, portioned, and ready to eat when I reach for them. This is a nice convenience if I have to eat in a rush, before my first client of the day.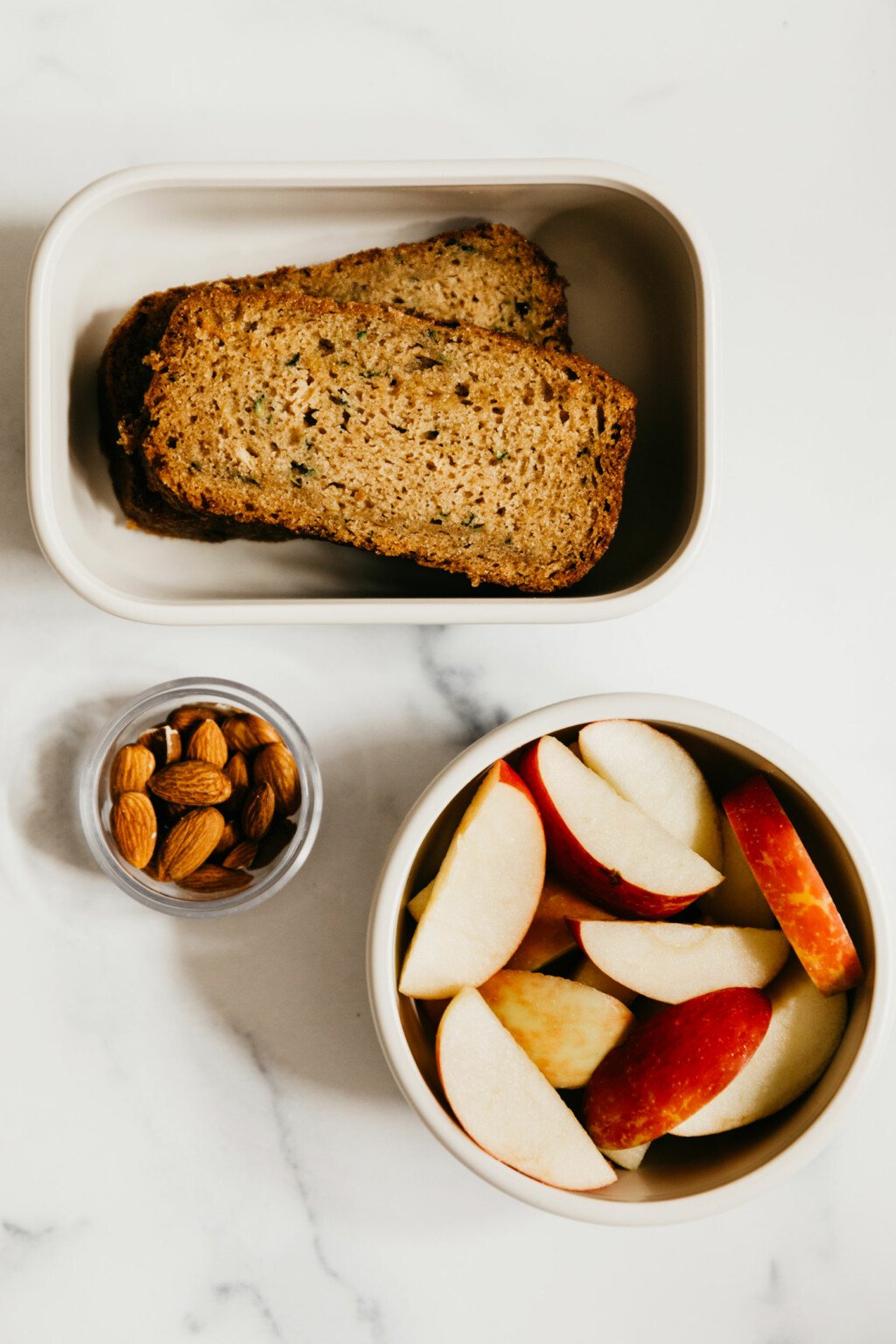 Meal prep breakfast storage
Once you pick out one or two vegan meal prep breakfast ideas for the week ahead, you'll need to store them.
The specifics of storage time vary quite a bit from food to food. But here's a general sense of how long various breakfast items keep:
Meal prep breakfast storage containers
On the topic of storage, it's essential to have some food containers that make this possible!
That becomes even more true if you need to transport your breakfasts from home to work, school, childcare, or another setting.
There are many food container options nowadays, from bento boxes to silicone bags. Here are some of the containers that I rely on most:
Most of the above are microwave friendly for reheating.
Meal prep breakfast recipe ideas
These breakfast recipe ideas are by no means the beginning or end of what's possible for a portable morning meal. They're just a sampling of what I've come to rely on myself.
The ideas are flexible, as you'll see. Many of the options I mention can be modified by switching up accompaniments or toppings.
I hope you'll find an option that you enjoy on this list of sweet and savory meals.
Overnight oats or vegan muesli
Overnight oats and soaked muesli are incredibly easy to prepare, and they're packed with soluble fiber. Add your favorite nuts, seeds, dried fruit, or fresh fruit to make these portable breakfasts more filling and fun.
Some of my favorites:
Tofu scramble with bread + fruit
I can't think of a plant-based breakfast that packs more nutritional bang-for-your-buck than tofu scramble.
Tofu scrambles are full of protein, fiber if you add veggies, and they usually have some calcium, too (this depends on the tofu brand that you use).
I like to pack up my scrambles with fresh fruit and some bread on the side.
If I put fruit and scramble in the same container, then I usually serve the tofu leftovers cold, which I like! If I want to heat the scramble up, then I simply pack it in an individual, microwave-safe container.
Other potential, portable tofu scramble accompaniments include:
Here are some of my favorite tofu scramble recipes:
Oat cakes
I first made oat cakes when I was in grad school. I was always on the lookout for portable breakfasts that could double as snacks.
An attempt to make baked oatmeal in a muffin tin turned into these dense, nutritious little cakes. They're not like Scottish oatcakes, which are crispy and cookie-like.
Instead, they're hearty and surprisingly filling. A couple of them can be breakfast-on-the-go with serious staying power.
Here are two recipes to experiment with:
Baked oatmeal (+ yogurt, if you like)
Speaking of varieties of baked oatmeal, I'm also a huge fan of baked oatmeal with yogurt as a portable breakfast combo.
Baked oatmeal was actually my favorite meal prep breakfast when I was doing my clinical internship. Sometimes I could microwave it, sometimes I ate it cold, sort of like a bar.
It's sometimes just perfect on its own, but an accompaniment makes it even more satisfying. This can be nut butter, gingered blueberry sauce, or plain or vanilla vegan yogurt. The latter is most satisfying of all, at least to me.
Here are the oat bake flavors that I make most often:
Quick bread (+ something else)
There aren't too many sweet breakfasts that I enjoy more than a thick slice of vegan quick bread. For breakfast, I pair these treats with something else. Here are a few of my favorite "something else" options:
And here are my favorite vegan quick breads from the blog:
Savory leftovers
The leftovers of any favorite savory breakfast lend themselves well to meal prep. Portion them, store them, and enjoy them as the week goes by.
If you have a fridge at work, these are also great options for transporting and reheating!
Here are some of my favorite savory breakfasts that are also conducive to meal prep:
Muffins (+ something else)
Muffins, like banana bread or zucchini bread, are a wonderful on-the-go breakfast.
And same as with other quick breads, I've learned that I need to have them with something extra in order to feel satisfied.
That "something else" component can be peanut butter, yogurt, a beverage, and so on. Sometimes, two muffins are a perfect breakfast for me.
Some of my favorite, nutrient-dense muffins to meal prep:
No-cook vegan breakfast ideas
We all may aspire to make a breakfast recipe ahead of time for the upcoming week. But we also know—all of us—that sometimes life gets in the way of our plans.
For this reason, it's great to have a mental list of no-cook vegan breakfasts that you can still include in your meal prep. These are quick, easy options that incorporate store-bought items for ease.
Here are some of the no-cook vegan breakfasts that I've relied on in busy times.
PB&J (+ whatever)
One of my grad school professors used to say that peanut butter and jelly is about as nutritionally perfect a food as there is, and I agree.
PB&J also happens to be my go-to lunch that's portable or extra convenient. And there's no reason for it to only be a lunch.
PB&J will provide protein, complex carbs, some sugars to get you moving, and satisfying healthful fats in the morning. Enjoy it with a piece of fruit, a soy milk latte (more protein!), and/or whatever else you like.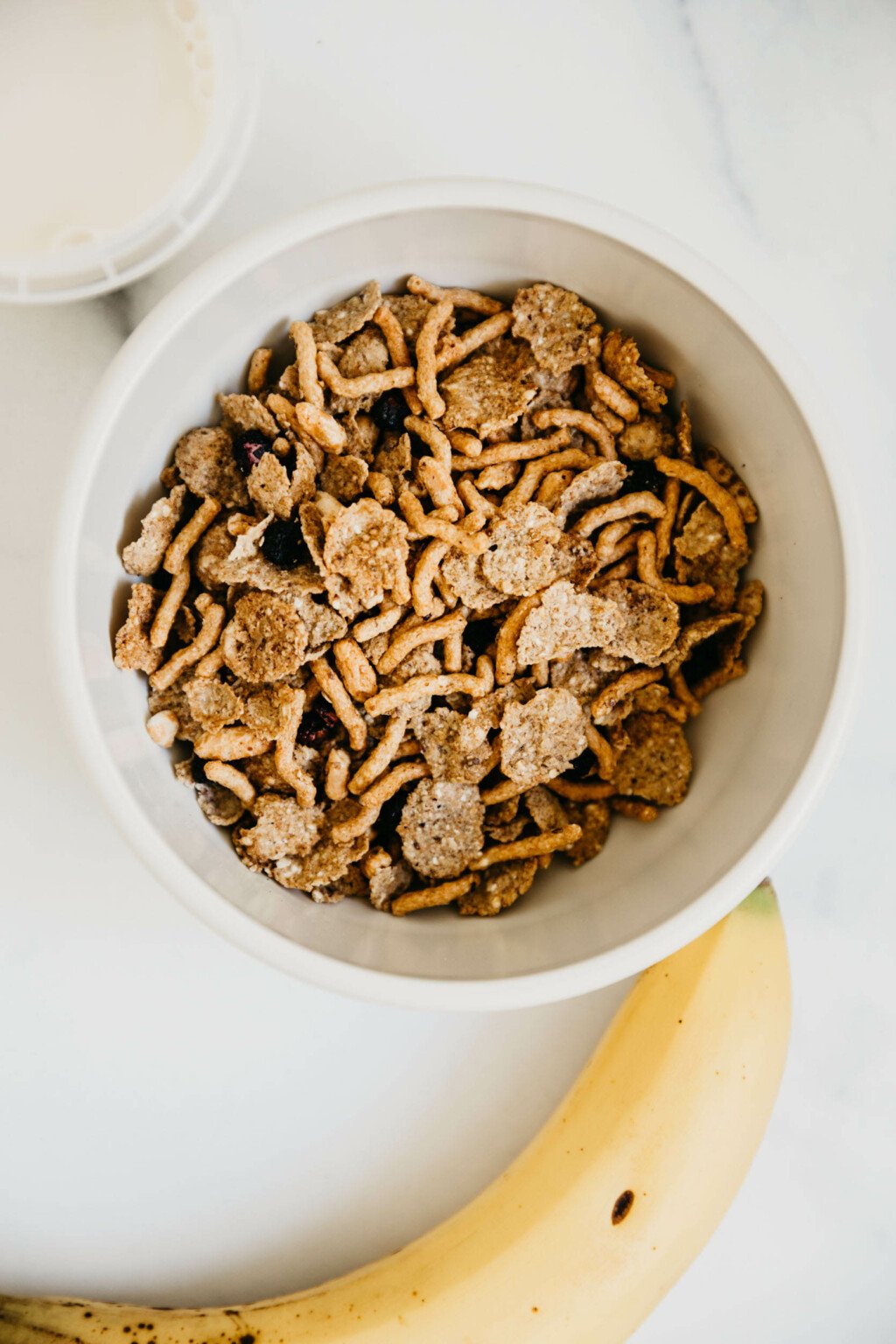 Cereal, milk, and a banana
It's not hard to enjoy cereal at a desk or on a campus, if you like.
Simply pack up your favorite cereal in one container, then non-dairy milk in another (something with a twist cap, like a mason jar or this, is best).
Enjoy with fresh fruit of some kind. I like a banana (also portable).
Meal prep smoothies
I'm not a big smoothie-for-breakfast person, but if you are, meal prep smoothies are always a fun idea.
Freeze individual portions of your favorite fruit, protein source, and mix-ins. (Here are some fun ideas.)
In the morning, add nondairy milk at home, blend, and add to a container for transportation.
Or, if you have an individual blender and coworkers who don't mind a little noise, you can blend smoothies in the kitchen area of an office.
A snack bar (+ something)
I eat a heck of a lot of snack bars for snacks. I don't love them as meal replacements.
Even so, life is life sometimes. Once in a while, a bar needs to stand in for a breakfast if I'm on-the-go or traveling.
If a bar is going to be breakfast, it's better to choose something that's more substantial. Some of my favorite, higher calorie bars with vegan flavors are Bobo's Oat Bars and Pro Bars.
Clif bars aren't meal-sized, but they definitely can hold me over till mid-morning.
You can also pair a less calorie-dense bar with other stuff. A snack bar + yogurt + fruit is a very good breakfast on-the-go. Now that it's not hard to find non-dairy yogurt at airports, I've relied on this combo often while traveling.
Single-serve oatmeal
If you don't feel like making overnight oats or baked oatmeal, you can also let the pros handle your oat needs.
A lot of brands make great, portable, ready-to-eat oatmeal that comes in a cup. All you do is add hot water and let it sit, or you add cold water and microwave it.
I've relied on this option while traveling, and it was another mainstay during my clinical internship year. Here are my favorite options that I've tried, but there are many others:
These oats may not be quite filling enough on their own. But it's very easy to make them more substantial, even on-the-go, with a portable nut butter packet or single serve portion of nuts and dried fruit.
Fresh fruit, if you have it, is also always a great addition.
Vegan "McMuffin"
If you have time in the morning to make one of these, then eat it in the car or at your desk someplace, great!
I use:
It's not exactly a make-ahead breakfast, but it comes together quickly in a toaster. It's filling, high-protein, and really tasty.
Once you toast your muffin and the egg, just assemble, wrap in foil, and transport to where you need to go.
Serve it with some fresh fruit, if you like. I almost always do.
A frozen vegan breakfast
If your meal prep plan fails to go according to plan—or fails to happen at all—it's always great to have some nutritious, frozen vegan options to grab and reheat.
Fortunately, there are a lot of wonderful, frozen, store-bought vegan breakfast meals. My favorites: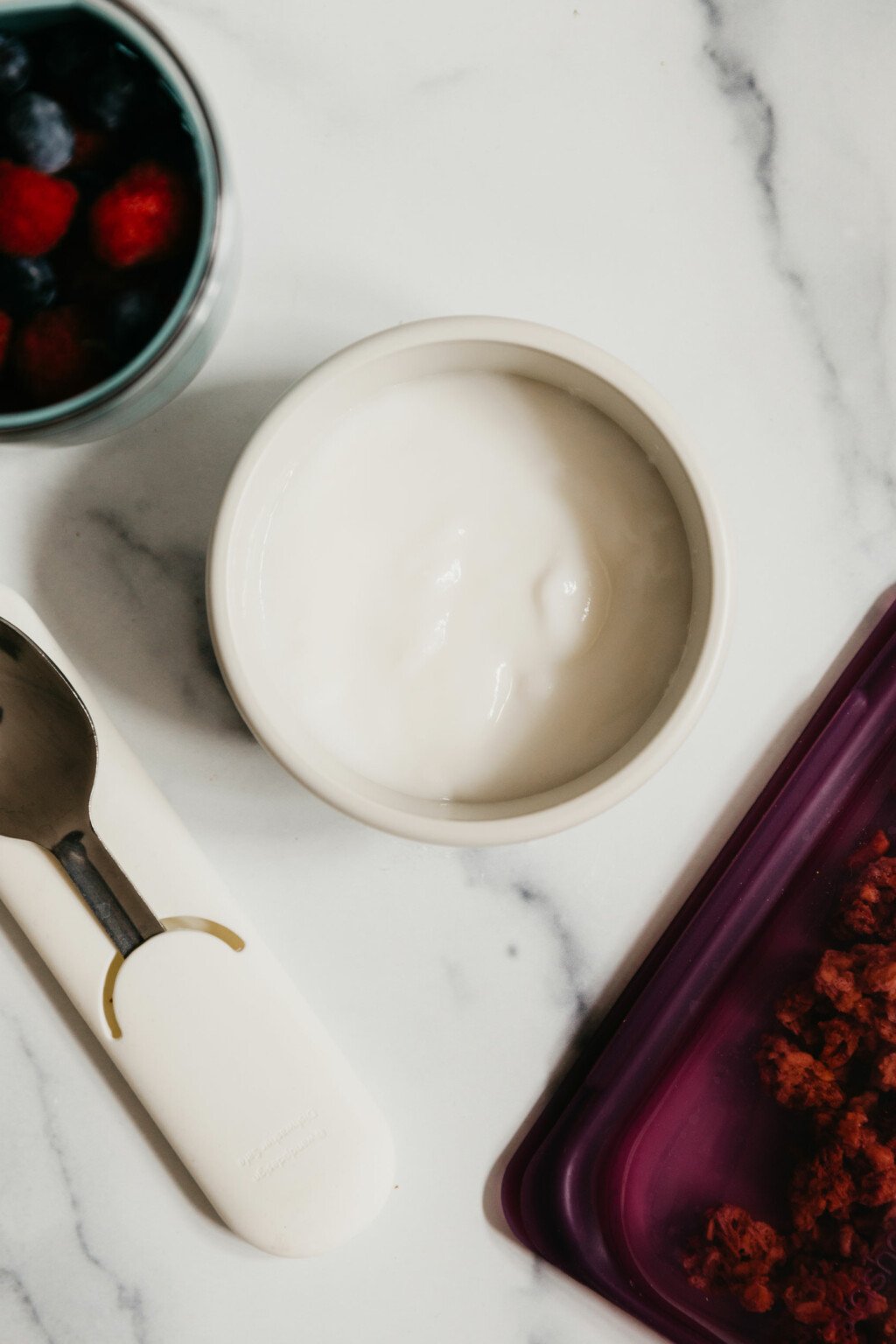 Fruit + yogurt + granola
Fruit, yogurt and granola is a classic breakfast combo, and it can easily be made portable.
When I have this option on the go, I pack up:
You'll need to find someplace to sit and assemble this breakfast, but once you do, you'll have something fresh, colorful, and textured to enjoy.
Prep now, be thankful later
I always say that meal prep is a gift that my current self gives to my future self.
The subtitle of The Vegan Week is "meal prep recipes to feed your future self," and I mean it sincerely.
I try to be honest about the realities of meal prep. It can be time consuming and laborious, depending on how much you do.
For me, however, the benefits of having homemade food that's ready to heat and eat (or transport and eat) as the week begins is priceless.
I've never once been sorry to have meal prepped, even if all I could manage was a sauce or a batch of muffins.
It's easy to focus on meal prep lunch or dinner at the expense of breakfast. But I've found that breakfast is one of the nicest meals to prep ahead of time precisely because it's so tempting to run out the door in the morning without something balanced to eat.
When I do have a solid, nourishing, and nutritionally adequate morning meal, the landscape of my day changes. I'm more energized, I feel more grounded, and I'm not starving when lunchtime rolls around.
I hope that these vegan meal prep breakfast ideas will help you to access all of those sensations, too, week in and week out.
Next up: lunch!
xo
References
Chen H, Zhang B, Ge Y, Shi H, Song S, Xue W, Li J, Fu K, Chen X, Teng W, Tian L. Association between skipping breakfast and risk of cardiovascular disease and all cause mortality: A meta-analysis. Clin Nutr. 2020 Oct;39(10):2982-2988. doi: 10.1016/j.clnu.2020.02.004. Epub 2020 Feb 17. PMID: 32085933.
Li ZH, Xu L, Dai R, Li LJ, Wang HJ. Effects of regular breakfast habits on metabolic and cardiovascular diseases: A protocol for systematic review and meta-analysis. Medicine (Baltimore). 2021 Nov 5;100(44):e27629. doi: 10.1097/MD.0000000000027629. PMID: 34871228; PMCID: PMC8568444.
Monzani A, Ricotti R, Caputo M, Solito A, Archero F, Bellone S, Prodam F. A Systematic Review of the Association of Skipping Breakfast with Weight and Cardiometabolic Risk Factors in Children and Adolescents. What Should We Better Investigate in the Future? Nutrients. 2019 Feb 13;11(2):387. doi: 10.3390/nu11020387. PMID: 30781797; PMCID: PMC6412508.
Ballon A, Neuenschwander M, Schlesinger S. Breakfast Skipping Is Associated with Increased Risk of Type 2 Diabetes among Adults: A Systematic Review and Meta-Analysis of Prospective Cohort Studies. J Nutr. 2019 Jan 1;149(1):106-113. doi: 10.1093/jn/nxy194. PMID: 30418612.
Bi H, Gan Y, Yang C, Chen Y, Tong X, Lu Z. Breakfast skipping and the risk of type 2 diabetes: a meta-analysis of observational studies. Public Health Nutr. 2015 Nov;18(16):3013-9. doi: 10.1017/S1368980015000257. Epub 2015 Feb 17. PMID: 25686619.
Chandra RK. Nutrition and the immune system: an introduction. Am J Clin Nutr. 1997 Aug;66(2):460S-463S. doi: 10.1093/ajcn/66.2.460S. PMID: 9250133.
Deer RR, Volpi E. Protein intake and muscle function in older adults. Curr Opin Clin Nutr Metab Care. 2015 May;18(3):248-53. doi: 10.1097/MCO.0000000000000162. PMID: 25807346; PMCID: PMC4394186.
Wild T, Rahbarnia A, Kellner M, Sobotka L, Eberlein T. Basics in nutrition and wound healing. Nutrition. 2010 Sep;26(9):862-6. doi: 10.1016/j.nut.2010.05.008. PMID: 20692599.
Westerterp-Plantenga MS, Lemmens SG, Westerterp KR. Dietary protein – its role in satiety, energetics, weight loss and health. Br J Nutr. 2012 Aug;108 Suppl 2:S105-12. doi: 10.1017/S0007114512002589. PMID: 23107521.
Paddon-Jones D, Westman E, Mattes RD, Wolfe RR, Astrup A, Westerterp-Plantenga M. Protein, weight management, and satiety. Am J Clin Nutr. 2008 May;87(5):1558S-1561S. doi: 10.1093/ajcn/87.5.1558S. PMID: 18469287.